Van Deadlocks - We Are Experts In Van Security
Dedicated to preventing vehicle theft, Van Deadlock Solutions is a family-run business. With over a decade of experience in the vehicle service industry, we are at the forefront of this field and know what works for our customers when it comes to Ford van security.
In addition to its purchase price, a van is a valuable asset because it's the lifeblood of your business. It's extremely important for businesses or sole traders who use a van for their work to keep it secure and make it harder for thieves to steal it or the contents.
Stay one step ahead of criminals with our Ford van security tips
Boost your Ford van security
Van deadlocks are the top aftermarket choice for people to boost their beloved Ford van security. These are beyond the basic spec of the van. The custom-built lock offers a premium shield against opportunist thieves so the contents of your van and the vehicle itself are in good hands. Valuable equipment can also be put in lockable toolboxes and pedal box protectors or steering locks make your vehicle harder to drive away.
Don't slip away from security
Prioritising your ford vans' security is an imperative part of your purchase. Anything you can do to deter thieves away from your vehicle is a huge benefit to you and your peace of mind… there is a lot to consider if you are buying a new van. As there are an array of sparkly pieces of kit on the shop shelves, it's easy to become overwhelmed, especially when you don't know what you are looking for specifically. With all of this in mind, don't let the security of your Ford van slip down your priority list. As standard, extras to improve your vehicle security don't come as standard. Van deadlocks are important to have, but to make your Ford the best deterrent to thieves, a Thatcham Vehicle Tracker goes hand in hand for security.
Sounds daft but use your van locks!
We all do it, we forget to lock our vehicles innocently thinking everything will be safe to run out and pay at the petrol station, or to jump out to post a letter through a postbox… Opportunist thieves wait for these goldmine moments. These small moments of innocence to us, are big moments of theft to criminals. Check twice – make sure your windows are closed and your doors are locked! Sounds simple, but you'll be surprised how many times this happens.
A van is broken into every 23 minutes.* Get protected today with Van Deadlock Solutions!
Choose your van make & model, get in touch & let us help you protect your valuables!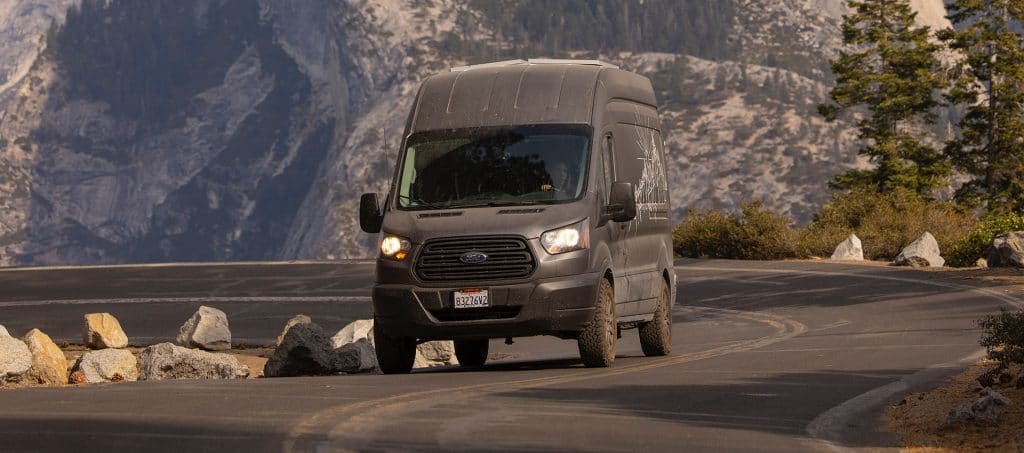 Out of sight, out of mind…
Phone, wallet, coins, keys - anything on show that looks of value will be an enticing lure for thieves. It may seem like the obvious way to prevent theft of your vehicle or its contents but emptying the contents of your van when you leave it may just save you a lot of money and time going through a theft claim. As tempting as it is to leave your valuables in the glove box, or your tools in the toolbox overnight – don't! the classic errors are always the most frustrating to deal with afterward as they could always have been easily avoided.
Parking – always think about where to park …
Have your work colleagues moaned about having to 'get the shuttle bus' to walk further than they deem necessary to grab their lunchtime sandwich and crisps? As tempting as it might be to limit your chances of doors slamming into yours at Morrisons, parking far away or in an area where it's desolated or not well lit, will only increase your chances of theft.
Always try and park in busier areas as thieves don't like to be disturbed or seen. Parking your vehicle in a well-lit, busy area with the potential of CCTV cameras will prevent criminals from doing their worst. Although CCTV may not cover you if the theft occurred, seeing the comings and goings of people in the area will be easier to monitor.
Keep a checklist of what's in your van
Keeping an inventory of what's in your vehicle is a tactful idea, should the worst happen.  It is also a very wise idea to keep all receipts of your expensive van items in a file, again should the worst happen, and you have to make a claim. Receipts of proof of purchase will only make your case of theft stronger. A brilliant idea that we know a lot of businesses do is watermark your equipment so If products are recovered, its known who the products belong to.
Keep staff in the loop with Ford van security
If another member of staff or another named driver is using your van, make sure they are aware of the security devices that are in addition to your ford van's security. Making sure other drivers know the precautions you also take is indispensable. Are you a fleet manager? If so then the security of your fleet is only ever as strong as the weakest link. All your staff need to stick to the same security checks.
Your Ford Van Security is our priority at Van Deadlock Solutions.
Aside from the obvious (but easily forgotten) pointers we've presented, with the added approved security enhancements to your Ford van: Thatcham Vehicle Tracker & Van Deadlocks, you can rest assured you have the best defence for your ford van security.
We also offer Hook Locks & Slam Locks at Van Deadlock Solutions