Van Deadlocks - We Are Experts In Van Security
Choosing to have a deadlock fitted to your van is one step closer to ensuring you do not fall victim to the increasing number of van thefts across the UK.
Having a van deadlock fitted provides a new way to secure your van while providing two benefits.  In the best possible location on the van, the deadbolt acts not only as a visual deterrent but also as physical security.  By arranging a van deadlock fitting with Van Deadlock Solutions, you will be preventing thieves from targeting your van because the presence of a van deadlock makes it too much of a challenge.
How does A Van Deadlock Work?
Van deadlocks are mechanical deadlocks that work completely independently of the interior locking system - much like Hook Locks.  It is installed to the van door and connecting body panel – that when locked activates a secure deadbolt across the door.  The straight bolt is 20mm-50mm and is operated by a high-security external key given to the driver on installation, leaving you with just the highest level of van security.
Where Can A Van Deadlock Be Fitted?
A van deadlock can be fitted across a number of doors on your van which include:
Driver Door
Passenger Door
Near and offside loading doors
Rear - Barn doors
Rear - Tailgate doors
All our van deadlocks are van specific and are installed by our professional team.  Guaranteed to be tamper-proof to ensure a secure van and peace of mind for the owner.
A van is broken into every 23 minutes.* Get protected today with Van Deadlock Solutions!
Choose your van make & model, get in touch & let us help you protect your valuables!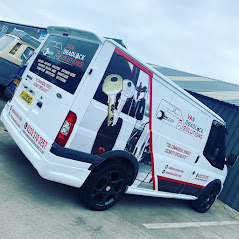 Fitted By Experted For Maximum Security
All of our locks are fitted by our team of specially trained lock experts.  One of our trained professional team will come to you at a time and place convenient for you for your van deadlock fitting, quickly and efficiently installing your lock and demonstrating how they operate to lock and unlock where needed.
Our Other Van Security Products
Van Deadlock Solutions also provide professional fitting of Van Slam Locks, Van Hook Locks, and other shielding products.
Contact Van Deadlock Solutions for more information on our van locks or to book your van deadlock fitting today!
Call us on 0333 370 3257