Supply of deadlocks, hook locks and slam locks with van lock installation as standard
Protecting your van is more important than ever with van crime and theft continually on the rise. Here at Van Deadlock Solutions we understand how much of an impact having belongings or your van stolen can have on you and your income if you use your van for work purposes.
As the leading van lock installation service in the Midlands, we provide:
Van Deadlocks
Van Hook locks
Van Slamlocks
We also supply and install a range of van lock accessories.
Deadlock Van Lock Installation
We recommend that van deadlocks are installed onto vehicle cab doors. It is suitable for owner-drivers or industries where the driver is relied upon to operate the lock.
Van deadlocks are compatible with Electric and Hybrid Vans and are plated in highly durable satin nickel to maintain a long-lasting appearance and consistent performance.
Hook Lock Van Lock Installation
Van Hook Locks are installed in carefully chosen tactical locations to make it as difficult as possible to break into your van including the side and rear door. It also acts as a visual deterrent with the cylinder being on show.  It creates a high-security additional locking point to the van, giving the driver full control. It needs to be opened by a different external key which thieves do not often realise.
Slam Lock Van Lock Installation
Having a slam van lock installed exceeds standard van security as it resolves the problem of ever forgetting to lock your van again which would have previously left you open to opportunist theft. Installing a slam lock for additional security provides an additional locking point to your van with a dual benefit. It not only acts as a visual deterrent with a pleasing appearance but also physical security.
We regularly fit and install van slam locks for delivery drivers, couriers, tradesmen, and various other industries that rely on the safety of their commercial van.
A van is broken into every 23 minutes.* Get protected today with Van Deadlock Solutions!
Choose your van make & model, get in touch & let us help you protect your valuables!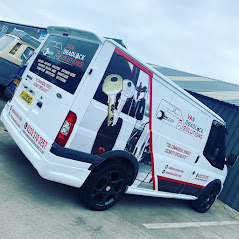 Our Expert Van Lock Installation Team
At Van Deadlock Solutions, our van lock installation team are fully trained and experienced to fit your van lock as quickly and efficiently as possible.  We will come to your home or place of work at a time and place suitable for you to fit the lock, explain how the locking mechanism works and recommend additional measures that can be taken to further secure your van if necessary.
We work with both major fleet companies and small businesses, offering our customers unrivaled product support and installation to ensure they are always protected.
Contact us for a Free Quote
Van Deadlock Solutions will come to your home or place of work to fit your deadlock at a convenient time and place. We regularly fit van deadlocks for delivery drivers, couriers, tradesmen, and various other industries that rely on the safety of their commercial van.
One of our trained professional team will finstallyour chosen products quickly and efficiently, fully demonstrating how they operate to lock and unlock.
Contact us here for a free quote or call on 0333 370 3257 for expert product advice.