Van Security Locks - We Are Experts In Van Security
Protect your Van with our Van Security Locks
Protecting your van is now more important than ever with van crime increasingly on the rise which is why here at Van Deadlock Solutions we provide and install a range of van security locks including van deadlocks, van hook locks, and van slam locks.
We are proud to be a registered reseller of Locks 4 Vans security van locks, the leading industry provider of aftermarket security solutions for commercial vehicles to ensure your van is protected against theft and damage.
Why Choose to Install Additional Van Security Locks
With so many UK businesses relying on their van or multiple vans to run their business, the need to protect your van is greater than ever with the latest statistics showing an average of 30 vans are stolen every day according to the RAC.
The cost of running your business without a van when you rely heavily on it can be damaging and impact the stability of your business, this is also the case for the cost of replacing tools that have been stolen from your van.
By choosing to install additional van security locks you are protecting your van and your business and avoiding the inconvenience it brings.  By choosing to install additional van locks not only do they provide additional physical security but also act as a visual deterrent for thieves.
Types of Van Security Locks
A van is broken into every 23 minutes.* Get protected today with Van Deadlock Solutions!
Choose your van make & model, get in touch & let us help you protect your valuables!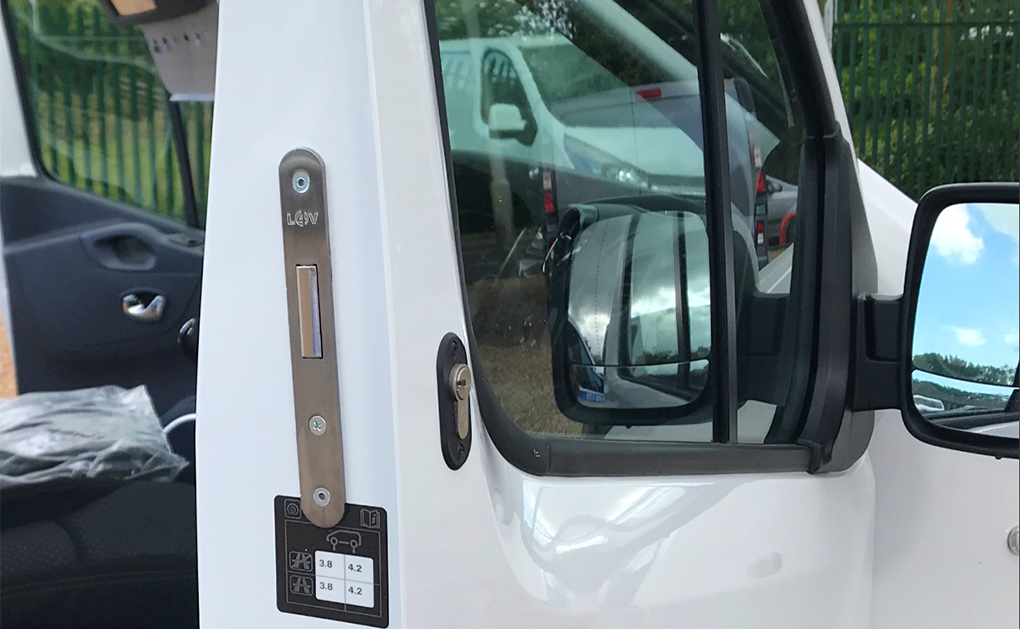 Van Deadlock Security Locks
Van Deadlocks is an aftermarket mechanical deadlock that works fully independent from the original manufacturer's internal locking system.  It is installed to the van door and connecting body panel that when locked, activates a secure deadbolt across the door which is operated by a high-security external key.
A van deadlock is one of the most popular van security locks with the dual benefit of providing physical security in the deadbolt alongside being a visual deterrent, deterring potential thieves.
Van slam locks are primarily designed for purposes such as multi-drop deliveries, couriers, and any operations where a driver may be in and out the loading area of their van throughout the day and requires security of their goods.
It works in the way the name suggests – once the van door slams shut, the door automatically locks. This resolves the problem of ever forgetting to lock your van again.  It also protects other access areas to your van as each door is only opened individually unlike a central locking system of a manufacturer's locking system that unlocks all doors at the same time, leaving you vulnerable to opportunist theft.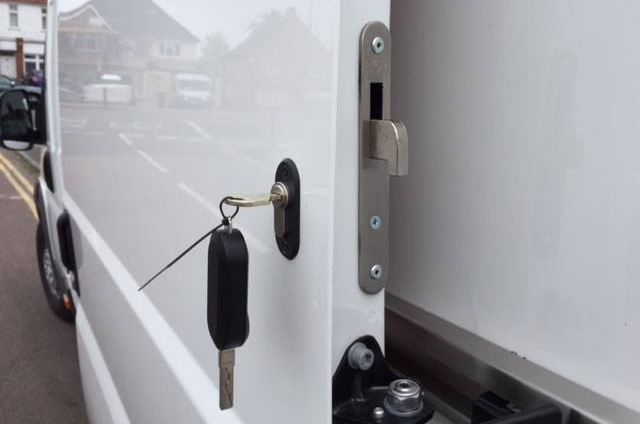 Van Hook Lock Security Locks
A van hook lock is very similar to the van deadlock which is fitted to your van door and connecting panel but instead of a straight deadlock, a hook style bolt catches into the receiving bracket to provide additional security.   A van hook lock gives the driver full control of which doors are locked and opened as it needs to be opened by a different external key which thieves do not often realise.
Hook locks are suitable van security locks for owner-drivers or industries where the driver is relied upon to operate the lock.
Van hook locks are also compatible with standard, electric, and hybrid vans.
For more information on our van security locks get in touch today where one of our experts will answer any additional questions you may have and provide a quote for your van.
All our locks are door-specific to the make and model of your van.
Call us on 03333 703 257