Van Deadlocks - We Are Experts In Van Security
No van is 100% secure when faced with today's most dedicated lock pickers and thieves and here at Van Deadlock Solutions, we understand your van can be your livelihood. This is why protecting your van should be seen as a necessity.
Van deadlocks, hook locks, and slam locks are carefully designed to meet the increasing demands of commercial van security by protecting valuable equipment on the interior of your van and stop common theft tactics used to steal the van. We know most thieves will always target a van with easy access but with a van deadlock apparent it will put them off as it presents too much of a challenge, even the impossible.
Here at Van Deadlock Solutions we want to make our Deadlocks, Hooklocks, and Slamlocks accessible to everyone and accommodate all budgets and circumstances which is why we are now proud to offer the option of 0% interest-free finance across our range of locks.
All our Deadlocks are van-specific, installed by our professional team, and are tamper-proof, resulting in a highly secure van and peace of mind for you and your business.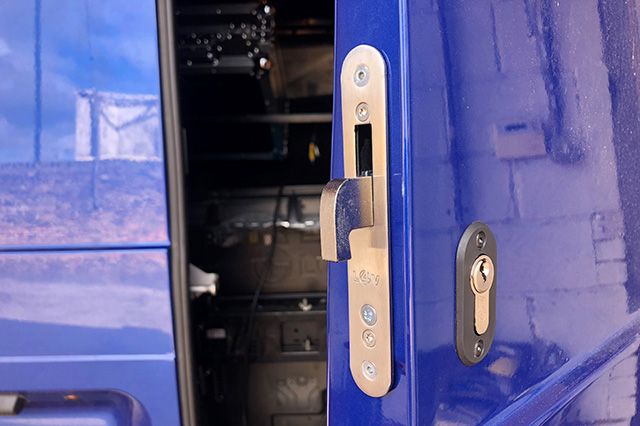 How Our 0% Finance Payment Plan Works
With our 0% finance option, you do not have to pay for your deadlock/s in one go but can spread the total cost over 4 equal interest-free payments. Just pay a 25% deposit at the time of your order and then pay the remainder over the following 3 months, giving you less to pay upfront at no extra cost.
Example
Cost of a deadlock on a Ford Transit Custom 2019 Van with 3 locks (Drivers high-security door lock replacement + passenger side loading door + rear barn door hook lock/deadlock) = £600 (other van models available)
25% deposit: £150.00
Payment 1: £150.00
Payment 2: £150.00
Payment 3: £150.00
Avoid the stress and expense if your van is broken into and its contents stolen with our 0% finance plan across 4 easy payments in comparison to the additional costs you would incur such as:
Loss of earnings
Loss of insurance excess
Loss of no claims bonus
Personal inconvenience / work
Increased insurance premium
Our 0% finance plan is simple to set up with no lengthy forms or checks. All you need is a UK-registered debit card.
Contact us for a free quote or call us on 0333 370 3257 for expert product advice.